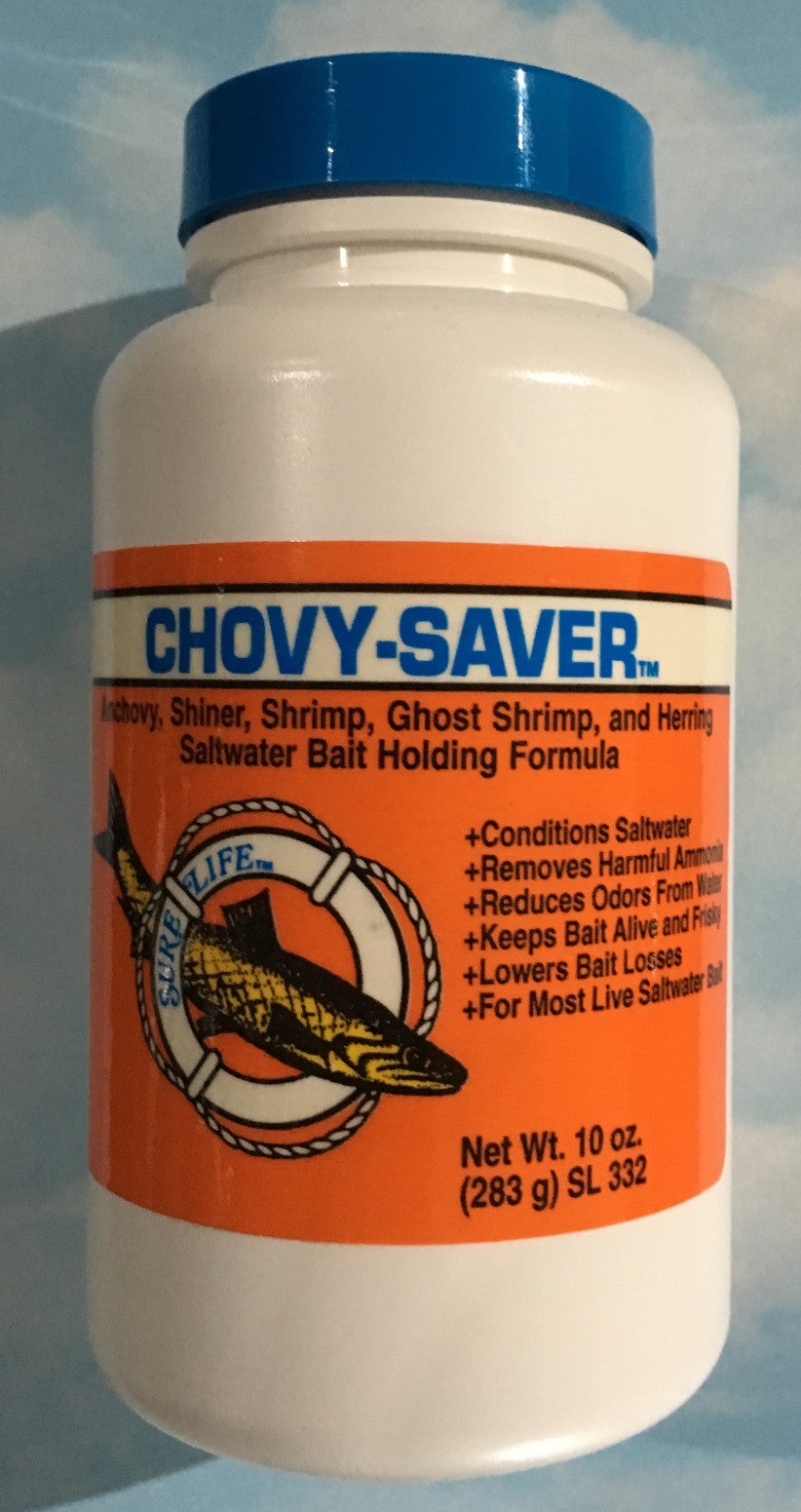 CHOVY SAVER Saltwater Bait Holding Formula by Sure Life
Regular price $22.95 Sale
Live Bait Additive formulated for: Anchovy, Shiners, Shrimp, Ghost Shrimp, and Herring!
Reduces Saltwater Bait Losses.
Removes Harmful Ammonia.
Reduces Odors From Water.
Keeps Bait Frisky.
Removes Harmful Surface Foam.
Removes Harmful Chlorine From Melting Ice.
Reduces Fungus and Bacteria.
Stimulates a Natural Slime Coat.
Readily Dissolves In Saltwater.
Reduces Surface Tension For Better Oxygen Transfer.
Especially formulated for use with anchovies often used as live bait. This is a popular bait along the western coast of the United States. Livelier and better conditioned bait is often the reason for a more productive day of fishing.

One heaping tablespoon treats 25 gallons of saltwater; one cupful treats 200 gallons. On very poor bait, we recommend that you used a double dose of CHOVY-SAVER™. If using a flow through water system, more CHOVY-SAVER™ must be added when green color dissipates from water. Closed systems work best with CHOVY-SAVER™. Use in all saltwater and following all partial water changes.

Fishing Products Texas has all your needs for fishing live wells, aquariums (Food and Health Care), Worm Farm products, Homeowners and Landscapers. All of our products have been tested over time. Please find our wide selection of products to help you have a better experience without having to do the experimenting. We have done this for you and look forward to serving all your needs. Retailers please give us a call or email for wholesale pricing on our full line of products.
SL332 Treats 250 Gallons
SL333 Treats 1200 Gallons